A roughly weekly account of my seed tray growth and gardening activities that dig up thoughts on what gardening means. Including the history, material culture and personal issues gardening brings to the surface.
Week 2: Page 1 of 3
I've put the seed tray outside for the moment. But it looks as if the sun has gone in and it's a bit windy out there now. There has been some big developments in the microcosm that is the green seed tray. It was on a call on Mother's Day with my sisters and mum that I first saw it. I'm doubting myself now that it even existed!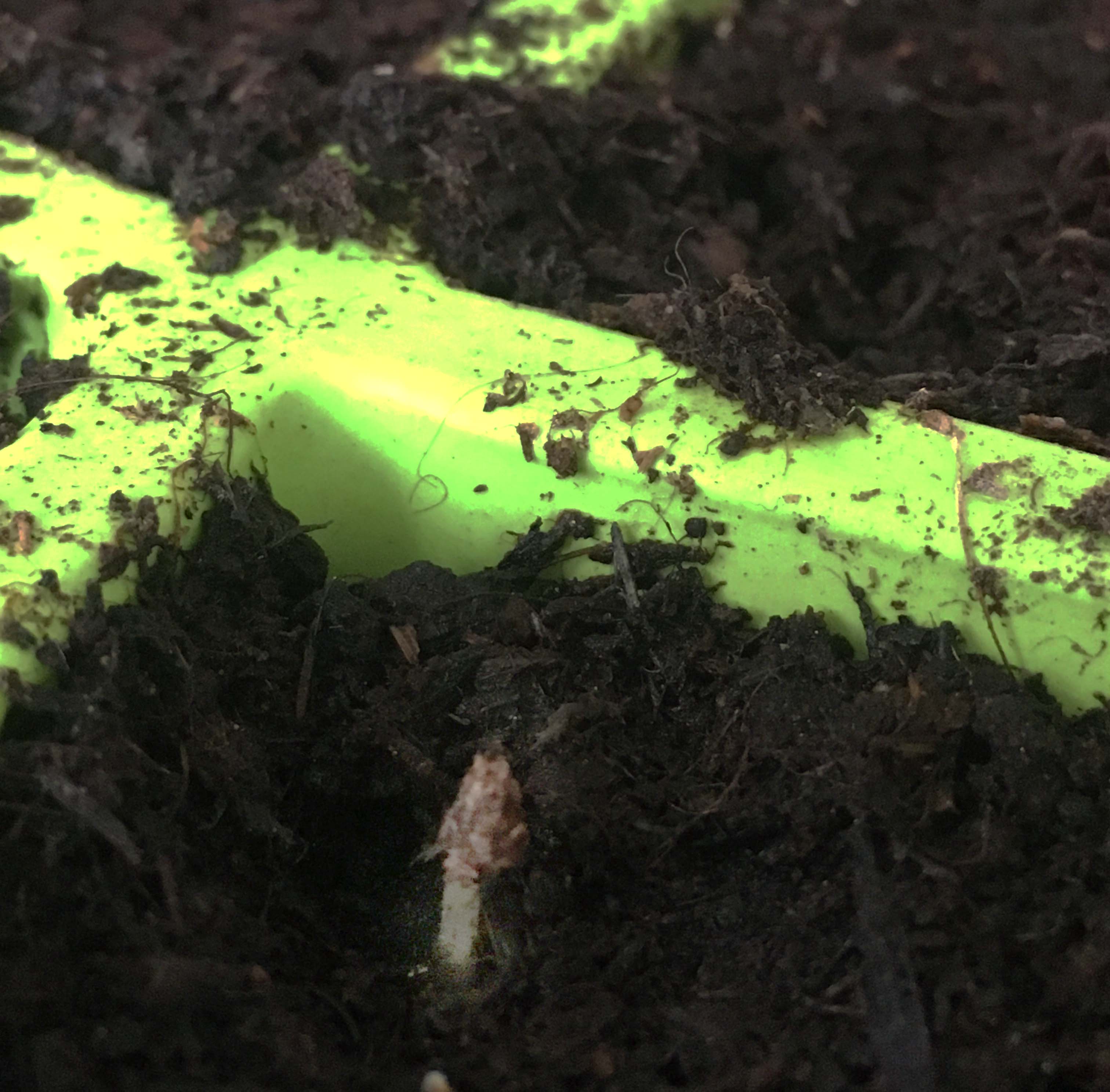 But what I saw was a small white stem, can't have been more than 1.5cm tall. When it grew it carried with it whatever was on top of the soil, like a mini Hercules figure, it hoicked up the piece of soil with its super-strength stem. A tomato plant has arrived!

The long-awaited arrival of the tomato seedling, has finally graced us with it's presence. Somewhat ironically, that very day, I had purchased three tomato plants. And yes it did feel like cheating. Most of the difficulty and anxious waiting has been sidestepped.I can't help thinking that being forced to watch all those gardening shows1 as a child (Ground Force, Gardener's World etc ) has

1. Interestingly when you type in 90's gardening Tv programmes, the first is an entry on Ground Force followed bu the Wikipedia page of Charlie Dimmock. It is remarkable how Ground Force has somehow stuck.
embedded itself into my gardening self (much like watching series after series of Grey's Anatomy2 can make one feel like a surgeon) and given me an unjustified sense of knowledge about growing things. Where did I learn it all from? Watching my parents or watching Alan Titchmarsh?
Going back to where it all started in Ancient Egypt, gardens for purposes other than food and medicine i.e ornamental gardens go back to 16th Century, according to Wikipedia.3 I have a bit of both: the wildlife of the ornamental and the utility of the vegetable patch; very pleasing on the eye, nose, mouth and mind. The name 'ornamental' doesn't do it justice in my mind as it seems to suggest a form of artifice or that it is just for show. Going beyond utility and what is necessary for life therefore is an ornamental garden. But it has another purpose, a way of enjoying life and for nurturing wellbeing.

2. An American TV series based on a career and life of Meredith Grey, the name of the series is borrowed from the medical textbook Grey's Anatomy. The original being a male doctor from the 17th century when female doctors won't supposed to be in existence.
3. 'Gardens of Ancient Egypt', 2021, Wikipedia, <https://en.wikipedia.org/wiki/Gardens_of_ancient_Egypt> [accessed 16th March 2021].
There is an enormous amount of privilege that runs alongside having a garden at all. Growing vegetables not for the necessity of needing to and having the time and energy the money, motivation and know how. This is especially true when living in a City like London, which is where I'm based. These seeds so far have brought about the cost of a propagation tray (£4), seeds (from £1.99 a bag to £2.99), compost (50l £5.25), water and a lot of time. The time has mainly been me moving the tray around to capture the most light as the flat is limited on sun spots and the light it lets in is minimal. And that's just the seed tray.
Another thing about the Ancient Egyptian gardening was their ceremonial vegetable growing. Meaning they had veg that they grew in specific gardens that were...